21 Unique Photoshoot Ideas For First Birthday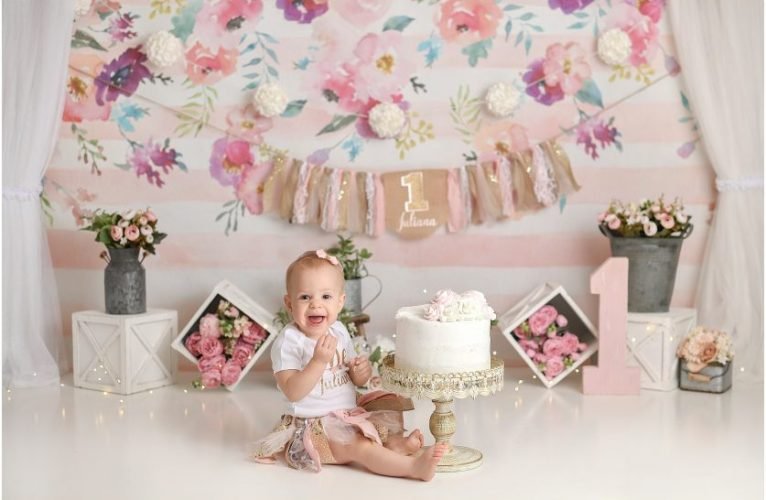 One of the best parts about having a kid is celebrating their first birthday with friends and family. In fact, it's one of the few times in your child's life that you get to celebrate them as the center of attention! Instead of using the same old picture-perfect photoshoot ideas that every parent has seen before, try these 21 unique photoshoot ideas for first birthday! They're sure to help you take amazing pictures while making memories that will last forever.
Best first birthday party photoshoot ideas
Here are some of our favorite first outfit birthday photoshoot ideas to celebrate your baby's first big day. Even if you aren't a photographer, these ideas can inspire great pictures of your little one on their special day. Try using a birthday tablecloth as a backdrop and have your little one stand at each place setting where you can have guests sign their name or write congratulations. You could also do an outdoor photo shoot with all of your family and friends around; just remember to coordinate outfits if possible! This is an adorable way to capture everyone who is close to you in a single picture, and then you can print multiple copies of it to hand out as gifts.
1. Birthday photoshoot with balloons
Balloons are a colorful, fun and interesting addition to your first birthday photoshoot. Since they're not typically used in everyday photographs, balloons create something unique to remember your little one's big day by. To get a stunning picture, try shooting during golden hour—which is just before sunset—and be sure to use a high aperture so you can blur out as much of the background as possible while keeping your subject in focus. After all, balloons aren't known for being in sharp focus. Be sure that you don't pop any of them!
2. Bunny baby shoot
Photo shoots are commonplace for one-year-olds, but you can bring a creative twist to a first birthday photoshoot with some bunny ears. Take your baby to a grassy field and dress him or her in blue so that he blends into the background. Or use some temporary (and removable) stick-on fur if you don't want it to be too obvious who's wearing it. Then, get down on all fours behind your little bunny and start snapping pictures from an animal's perspective! Most parents will tell you that having their children photographed while they're in costumes is their favorite part of any photo shoot. It opens up so many possibilities for clever ideas like these bunny ears; and your kids will love showing off their unique style!
3. A Party Photo Shoot
If you're planning a birthday party, consider adding a photo shoot element to your event. You can build it into your overall party plans or have it as an added feature at a different time of day—or even on another day. Have props and backdrops ready to go and hire a professional photographer for great images that will be cherished forever. Your little one will love having fun with friends and family in front of the camera!
4. A Close-Up Shot
As you can see in these adorable pictures, even something as simple as having a baby close-up shot can make for amazing birthday picture ideas. Let your little one curl up close to mom or dad for some really touching photos! Whether you opt for a serious birthday photo shoot or just want to get silly, an up-close shot will always work.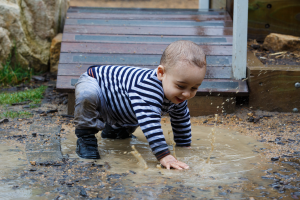 5. Playing with mud photoshoot
Have you ever seen a baby covered in mud? It's amazing! To celebrate your child's first birthday, why not replicate that experience in pictures? Your child will have a blast getting messy and so will you. You can take these photos at home or even go to a mud park; there are lots of locations where you can get dirty together and make some amazing memories. This is one of our favorite outfit birthday photoshoot ideas because babies don't care if they look silly while they're having fun! If there was ever an excuse to get messy, it's on your child's birthday.
6. Pretty angel photoshoot
Organize a photo shoot of your baby when she's dressed in an angel costume. This is a birthday photoshoot idea for any age—you can use it for babies, toddlers, kids and even adults! Dress them up as an angel or fairy, complete with wings and a halo to really pull off that celestial look. Your little one will love posing in her wings and robe while you snap away photos.
7. Baby in jelly beans shoot
Some babies are super tiny, but some can also be chunky. For example if you have a baby with eyes as big as saucers and rolls of skin on their thighs—you're going to need a bigger suit! Jelly beans is not just any baby picture idea, it's THE cutest one for chubby babies. Find a plain backdrop or hang up sheets in your house (they don't have to match). Stick your baby into a white onesie then fill it up with jelly beans until it looks like they are almost popping out. Put them on top of an elevated platform and shoot away! They will look like they are swimming in candy.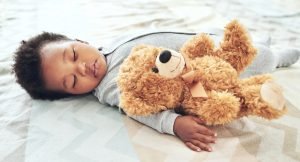 8. Stuffed animals shoot idea
You can go either way with a baby photoshoot. You can make it formal, but it is also possible to add some fun and creativity into it. Either way, you will end up having beautiful pictures of your little one to show off. Plus, your little one will enjoy playing around in different outfits and being pampered a bit in preparation for these photos. Maybe you even want to get a professional makeup artist involved so that your little girl looks just as cute as she deserves for her special day!
9. Cute sailor photoshoot
A great idea for first birthday photo shoot is to dress up your baby as a sailor. This can be done by dressing them in simple sailor outfits or through more complex shots which will feature props like boats, models, helmets and other items associated with sailors. This photoshoot idea is best suited for boys but can easily be adapted to work for girls who are dressed in sailor style clothing or are given sailor themed accessories to play with such as toy ships and an anchor. You could hire a professional photographer who specializes in photoshoots of babies if you prefer but it is quite easy to do on your own as long as you have plenty of help from friends and family when it comes time to get creative with props.
10. Photoshoot with friends
This is definitely a cool idea for your photo shoot ideas for birthday. Create some picturesque images of friends helping you celebrate your big day by dressing in costume and surprising you with cute photos. Your friends will enjoy being part of your special moment and might even create some memorable pictures for you to share with family members when it comes time to share online or print. A photo like that is surely one of those picture ideas you can use as a birthday card at work, home or school.
11. The Birthday Girl in a Flower Basket
Throwing a baby shower? Create a floral masterpiece by finding a wicker basket and filling it with lots of different flowers. Then, set your little model in her flower bed and snap away! Here's to hoping she has at least two outfits for her 1st birthday photoshoot – you don't want any mix-ups!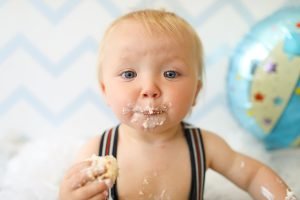 12. Messy baby shoot
What does a baby love more than anything? Getting messy! So give them free reign to play with their food. What you'll get is seriously adorable photos of your little one covered in porridge, oatmeal or even chocolate cake.
13. Wonderful walk shoot
Find a beautiful location and take your child for a stroll. Switch out your lens for a wider focal length, and include lots of family members in some photos too. If you can't get outside, consider using window light for some natural-looking indoor portraits. Happy birthday!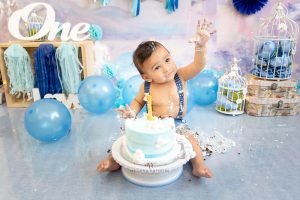 14. Photography shoot with a birthday cake
A first birthday is a special time in any child's life, but you can capture it perfectly with a photo shoot. You can even have an extra treat and make it an ice cream cake. That way, you will not only capture your baby's 1st birthday as a milestone but also have plenty of fun doing so! Find out what other fun photo shoot ideas for babies' first birthday there are by following our tips on our previous post: 21 Unique Photo Shoot Ideas for Babies' First Birthday Party.
15. Just hatched shoot
What better way to celebrate your little bundle of joy than with a photo shoot? Don't worry about fancy lighting or props—the moment is all that matters. Whether you use disposable cameras or hire a professional, I say do it for your baby's first birthday and every year after. Kids don't remember their first days, but they always remember their first photos—which they can hang up in their rooms. (I know mine did!) Baby fashion trends are constantly changing (and so are your preferences), but there are some trends that will never go out of style: pearl-snap shirts, ruffled dresses, bow ties, and bonnets are just a few! What better way to capture all those special moments than in photos?
16. Fairy baby shoot
Babies really do have a sparkle in their eyes and they look sweetly innocent! Dress up your newborn in a princess like outfit and take pictures of her. Ask help from your friends to carry out this idea. Take some outdoor shots as well. This will give you memories for life and would also be one of those best birthday picture ideas for first birthday ever!
17. Silly kid shoots
Though your kid may not have yet developed a keen sense of humor, he will surely get a kick out of putting on an Elmo mask or slipping into a pair of lederhosen. These shoots won't come without work on your part (think props and backdrops) but they're sure to be fun and memorable. And who knows? Maybe they'll give you some good ideas for other photoshoots down the road.
18. Sponge cake and ice cream shoot
Make a huge slab of sponge cake and freeze it until it's solid. Take ice cream scoops out of your freezer and cover them in whipped cream, then place these on top of your sponge cake. Now you have a birthday photo shoot to die for! (via Oh Happy Day)
19. Bubble Bath shoot
Whether it's a newborn photo shoot or a birthday session, taking photos in a bubble bath is unique and memorable. You don't have to be fully submerged in water either. Find out what temperature is comfortable for your child and their clothes, so they can get cozy while their parents snap away! You can even keep them warm by shooting with an underwater camera housing attached to an external strobe, though you may have some issues with water droplets on your lens when shooting wide open.
20. Action baby shoot
On a photo shoot, it is often times easier to work with an adult who can move and do things on command. A lot of people love baby shots. This is one way you can use that and make a unique look. Ask your model to wear clothes that are black or white, pick up props and take a ton of photos in different lighting set ups so you can choose a variety of looks. This kind of photo shoot should be done very quickly since it will be hard for a baby to stay still for long periods of time. If possible find someone else to help so you can focus on shooting while they handle moving them around. Make sure you have lots of different backdrops too if it's an outdoor shot as you want as many options as possible.
21. Formal or cute baby photoshoot
Whether you dress up your baby for a formal studio photoshoot or do something cute and fun outdoors, either way you'll have great photos to commemorate his first birthday. Here are some photo shoot ideas for birthday photos.